Tough, strategic, experienced. These are the attributes you want in the lawyer defending you – that is what you get when you hire me.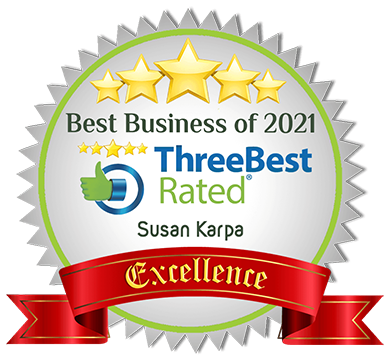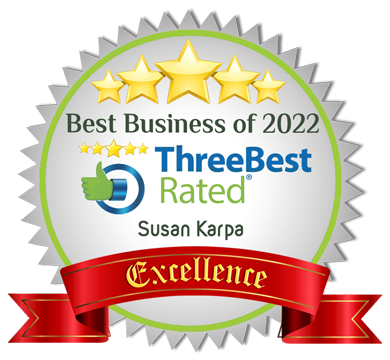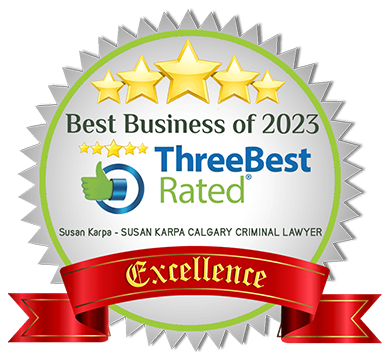 ---
Calgary Criminal Defence Lawyer
Susan Karpa
Experienced. Strategic. Effective.
Being charged with a criminal offence is often one of the lowest points in someone's life. It is an extremely stressful time and many people have no idea what to do. Hiring the right lawyer is a crucial first step. Since becoming a defence lawyer I have assisted thousands of individuals with their matters, helping them avoid jail sentences and criminal convictions. I have even been successful in having manslaughter and second-degree murder charges stayed against my clients.
Called to the bar in 2003, I have practiced exclusively in the area of criminal law for my entire legal career. I have always known I wanted to defend those who faced criminal charges. I firmly believe that everyone is entitled to the presumption of innocence. It is this belief that compels me to fight tirelessly for my clients, regardless of what charges they may face. I have run hundreds of trials and my experience is invaluable. I use the extensive criminal law expertise I have acquired over the years to be the voice that will be heard for my clients throughout the court process.
I take my commitment to my clients seriously. I work hard to defend all criminal charges equally. Whether you have been charged with murder, shoplifting, assault, fraud, trafficking or something else, I strive to ensure the best possible outcome. This often includes having the charges dropped altogether. Though I have had success in cases involving every sort of charge, I manage my files on a case by case basis. This means I tailor my approach based on the evidence and circumstances unique to each client's matter. However, the end goal is always the same – to help the client get his or her life back.
Because of this passion, I have been running a successful criminal defence practice and have built a strong reputation as a fearless advocate for my clients.
BACKGROUND
From a very young age, I knew I wanted to be a criminal defence lawyer. The path to get there started at the University of Ottawa, where I received a degree in Criminology. Upon completion, I was immediately accepted into law school at the University of Alberta. As a law student I volunteered with Student Legal Assistance. That was the start of my trial court experience. During this time, I also represented incarcerated persons, both at the Edmonton Institution and the Edmonton Institution for women, successfully defending inmates within the internal disciplinary proceedings.
I secured an articling position with the crown prosecutor's office once I received my law degree. Despite wanting to practice defence, I knew being able to look at cases from the crown's perspective would provide invaluable experience when I started working in defence later on. It would enable me to gain insight into what crowns would be looking for on files and to build positive working relationships with colleagues. Further, it would allow me to work hand in hand with police at the investigative stages, and with that learn how an investigation unfolds, and what is necessary for a file to be prosecuted. This knowledge has served to further advance the position of my clients as a criminal defence lawyer.
During my articles, I started running trials in traffic court, and assisted prosecutors with trial preparation and research. Thereafter, the General Prosecutions branch in Calgary offered me a job as a crown prosecutor and I accepted the position. I stayed in this role for two years. Even though I had a high case volume, I still successfully ran a number of trials weekly. From there I moved into the prestigious Special Prosecutions branch, in the organized crime section. I was one of the youngest lawyers to ever be hired into the branch.
While at Special Prosecutions, I worked on several high-profile cases, which included wiretaps, search warrants, firearms and weapons offences, undercover police operations, robberies, assaults, and sex assaults. I also had the opportunity to prepare and prosecute high profile murder cases – never losing one! Another appointment I was given was that of the Designated Firearms Crown Prosecutor for Alberta. In that role, I was tasked with not only the prosecution of firearms offences, but also with teaching. I instructed crown prosecutors, defence lawyers, and the police about weapons and firearms offences and investigations.
GIVING BACK
Knowing that there are other young people in the community that have the same dream I did, I am proud to have played a small part in helping them work towards achieving that goal. One such project I have been involved with was at the Webber Academy, where I assisted students with their Law Day Mock Trial competition. For several years, under my instruction, the students won first place. I have also worked with the Calgary Police Service, participating in mock trials with their recruit classes. Currently, I am a volunteer with Calgary Legal Guidance. In this role I am paired with law students and act as a mentor for them, providing both academic and peer support.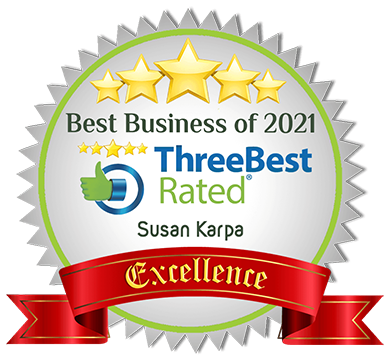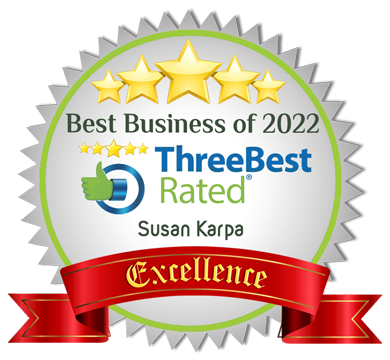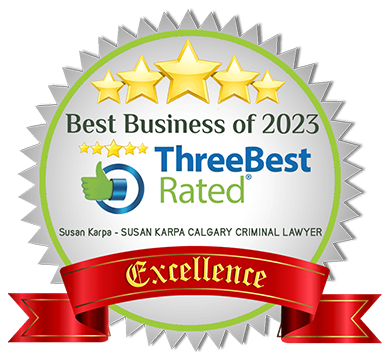 Frequently Asked Questions
DO YOU SPEAK OR REPRESENT ANYONE IN OTHER LANGUAGES?
While I only speak English, I have competently and successfully defended clients from a variety of countries, backgrounds, and who speak different languages. You have the right to an interpreter in court and language should not be a barrier to you in receiving effective legal assistance.
WHAT IS YOUR RETAINER FEE?
Generally, I work on a block fee basis as opposed to hourly so the amount required for your matter will depend upon on the complexity of your matter and amount of work required. This form of billing is more beneficial to you as you can be comforted knowing not every phone call or moment spent with me will be charged to you. You know what to expect up front and can plan your finances accordingly. All the details regarding payment will be set out in our Retainer Agreement.
DO YOU TAKE LEGAL AID FILES?
Please give me a call to discuss payment options and/or the possibility of representing you through Legal Aid, should you qualify for that service. Rest assured, I give the same level of service and commitment to my Legal Aid clients as I do for my privately retained clients.
WILL YOU DO MY BAIL HEARING?
If you have not been released by the police and are facing a bail hearing or if you are at the Calgary Remand Centre facing new substantive charges, or new charges for breaching conditions of release or probation conditions, contact me right away so we are able to discuss how best to secure your release. Bail is a very important stage in your journey through the criminal justice system as it can impact your freedom, livelihood, and ability to prepare a defence. Even if you are charged with a serious offence such as murder, I am here to help you and will do my absolute best to fight to secure your release.
DO YOU DO APPEALS?
I do not take appeal cases, however, if you are looking for assistance or a recommendation, please feel free to give me a call and my office will be able to point you in the right direction.
No one calls criminal defence lawyers for fun. If you are looking for a criminal defence lawyer to represent you then chances are you are going through one of the most stressful times of your life. If you have been charged with a criminal offence, then the stakes have never been higher, and you have to make one of the most important decisions for your future: choosing the right lawyer for you. You probably know that this is a big decision with important consequences, but you might not know where to start. What should you look for in a criminal defence lawyer? How can you start looking for a criminal defence lawyer?
WHAT SHOULD I LOOK FOR IN A CRIMINAL DEFENCE LAWYER?
Let's start with the obvious: you want a criminal defence lawyer who is very good at their job. But you cannot take lawyers at their word on this. After all, no criminal defence lawyer is going to say that they are bad – or even "pretty good" – at their job. Most will tell you that they are great. And some are great – but not all. So how do you know when you have found a truly good criminal defence lawyer? And, more importantly, how do you know that you have found a great criminal defence lawyer for you? Like a diligent lawyer, you look at the evidence!
Good defence lawyers are skilled and trustworthy. They are experienced, strategic, and effective. They are reliable. You can get a sense of whether a lawyer has these qualities by looking at a combination of their demonstrated experience, and the way they communicate with you. There are several ways to do this.
LOOK AT A LAWYER'S WEBSITE
Most lawyers and law firms have websites that give you a lot of information about their practice. The website is a place to get the important information I mentioned above such as how many lawyers work at the law firm, or if it is a sole practitioner lawyer. The website should also tell you other important things about the lawyer or law firm. Some other questions to ask yourself as you look through a lawyer's website are:
HOW LONG HAS THE LAWYER HAS BEEN PRACTISING?
Experience matters. Finding a criminal defence lawyer with years of criminal defence experience can mean all the difference in the outcome of your case. A lawyer's website should identify how long they have been practising for, and what their background is. It will often also tell you how many criminal cases they have worked on in the past, or at least give an estimate as to the number.
You should also make note of the website refers to the total experience of every lawyer in their firm added together or does it separate it by individual lawyer?
You should also look at what a lawyer's practice areas are. Choosing a lawyer with extensive and exclusive criminal law experience What are the lawyer's practice areas, and do they have experience defending the crime for which you have been charged? Even if a lawyer doesn't have extensive experience in a particular offence, broad experience in criminal law is important.
A lawyer with experience in both less serious criminal offences and serious offences is important. Take a look at whether the criminal defence lawyer has experience in serious charges such as possession of drugs for the purpose of trafficking, or sexual interference with a minor, as examples of serious offences which require a high level of knowledge and understanding of criminal law. Or, for a criminal offence that requires a deep understanding of complicated law or technology, look to see whether the lawyer has experience with sexual assault offences, or possession of child pornography.
DOES A LAWYER'S EXPERIENCE MATTER?
One thing to consider is whether or not the criminal defence lawyer's website describes what their experience is in criminal law. For example, a criminal defence lawyer with experience as a crown prosecutor has a different and valuable perspective than a lawyer who does not have that experience. They have a better sense of what the prosecution needs to prove in order to convict you, and whether or not they have it; or whether the Crown is likely to accept a certain resolution position – and what can help achieve that.
Another subject to look for on a criminal defence lawyer's website is a description of why a lawyer practices criminal law. You want to choose a lawyer who is passionate about criminal defence and will do everything in their power to secure the best possible outcome for you. The last thing you want is a lawyer who just goes through the motions and sees you as just another file.
WHAT RESOURCES ARE AVAILABLE ON THE WEBSITE?
Does the lawyer provide educational resources on their website? Many lawyers use their websites to provide the public – including prospective clients – with publicly available FAQs or blog posts. These resources allow you to make an informed decision about whether you should reach out to them for a consultation.
When looking for a good criminal defence lawyer, Google reviews and ratings are a natural place to start. You will probably find yourself looking at a lawyer's average Google rating (out of five stars) without even trying! The average rating is a very important number, but it means nothing without context. When looking at the Google ratings of a lawyer or law firm, you should ask yourself the following questions:
DOES THE AVERAGE GOOGLE REVIEW RATING MATTER?
Of course, it goes without saying that the higher the rating the better. However, that is far from the whole story.
An average Google review rating of five stars means very little if there has only been one review. Similarly, a hundred five-star Google reviews show a lot more about the quality and consistency of legal services a firm provides than, say, thirty 5-star Google reviews.
DO THE RATINGS RELATE TO A SPECIFIC LAWYER, OR TO THE WHOLE FIRM?
If a law firm with more than one lawyer is being rated, then there are several lawyers who are being rated under one heading on Google. Four-hundred five-star Google reviews for a firm with multiple offices and twenty lawyers is impressive, but it says less about any one lawyer in that firm. What if you get a lawyer who was just hired at that firm? Those Google reviews do not tell you much about that lawyer. And how do you know which lawyer is responsible for the work that generated those reviews? You don't. And a note of caution: just because a law firm's name is only one person's name, does not mean only one lawyer works there – look at their website and see for yourself!
WHAT ABOUT THE ACTUAL REVIEWS?
Perhaps even more important than the Google ratings are the actual Google reviews: what past clients of the lawyer or law firm actually have to say about the quality of legal services they received. You should actually take the time to read through some of these reviews. What you look for in them will depend on your own preferences. Think to yourself as you read through them: does this lawyer sound like someone who can help me? Are they getting good outcomes for people? Are people happy with the choice they made to hire this lawyer? Did they find that the lawyer was confident, reliable, and attentive?
However, as with reviews of any business, they should be approached with caution. It is easy for anyone to leave a review without actually having used the services. Further, sometimes people leave reviews that do not accurately reflect the experience with the business. Reviews are just are just one side of the story so to speak. It is important to speak to the criminal defence lawyer you are looking to hire so that you can come up with your own opinion on whether they will be best suited to assist you.
Does the lawyer offer free consultations? They should, and most do. You will want to contact the lawyer you are considering to make sure that they can help you, and that the two of you make a good fit!
Now that you have used Google reviews and ratings and the lawyer's website to find a lawyer you think is great, it is time to set up a free consultation with them. The consultation is an important part of the process as it gives you the most insight as to whether the lawyer you are meeting is a great lawyer – and a great lawyer for you!
The consultation is all often about fit and that often comes down to a gut feeling than anything else. Be cautious when a lawyer promises you a win during an initial consultation. Lawyers argue for their clients' best interests; they do not make the final decision – that is the role of the judge. The reality is that lawyers cannot possibly know whether they can get your charge withdrawn, get you a favourable resolution outcome, or have you acquitted at trial until it happens. They certainly do not know this at the consultation stage. This is especially true because, at the consultation stage, they will not have received – let alone reviewed – all of the disclosure, which means they do not know what evidence the prosecution has against you.
Rather than promising you a win, a lawyer should be very honest with you in the initial consultation. They should learn what charge you are facing, receive any documents you do have, hear your side of the story and what your priorities are, and give you a sense of what they think your next step can be and what they might be able to do for you. If they cannot help you with your matter, they should be able to point you in the direction of someone who can. During the consultation, the lawyer should also discuss with you things like communication expectations and fees. At the end of the initial consultation, you should have a good sense of whether or not the criminal defence lawyer is the fit for you.